Main Menu
u After logging into 4C-TV the user is presented with a pallete menu listing all functions the user is given access to.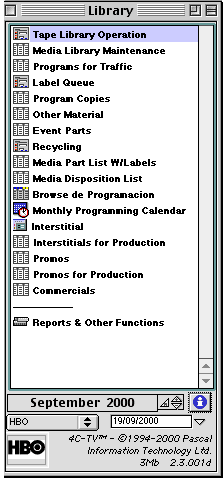 u The list of functions on this menu are set up by the DBA for each user with access to the 4C-TV database.

u The icons on the left of each item indicate what type of function is accessed when double-clicking on its line.

u The first thing you need to do, in order to start working with 4C-TV, is double click in a line on the Main Menu to open a window, or a view in 4C-TV.

u There are six general types of functions in 4C-TV:

u The last function on the list provides access to reports and other functions available to the user. Those reports are either user created reports saved in the data base, or other reports and functions made available by the DBA.
---
updated release 2.3.008
Thu, Nov 15, 2001