Commercial Schedule
u Screen for Ad Commercial daily scheduling.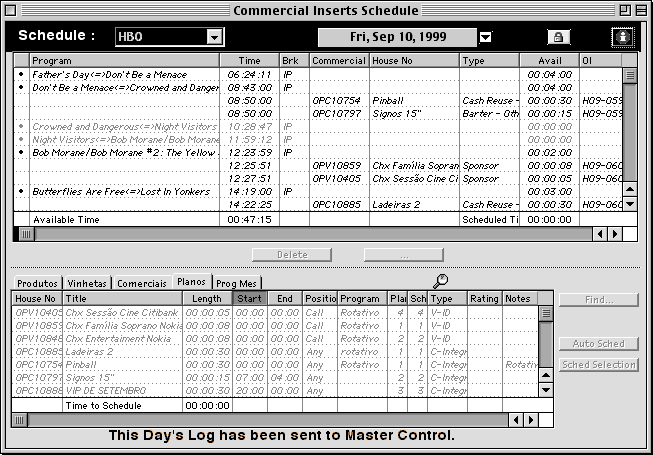 The Events List in the Schedule presents a list of tabs at the upper part, meant for selecting the event type shown on the list. There are tabs to select Products, Vignettes, Commercials, Ad Insertion Plans and Monthly Schedule.
Events on this list can be programmed by Drag & Drop to the Daily Schedule list, being inserted always on the place where indicated. In case the list contains events from the Monthly Schedule, drag&drop is not allowed, for those events are already present on the schedule grid.
Dbl-clicking in lines on this List brings the event's corresponding record or in the Case of Ad Plans, the Ad Insertion Plan's record.
Through drag&drop it is possible to program commercials directly from the Commercials list, and in this case the system will search for an existing Plan corresponding to the Commercial, and if there is no defined insertion for the day being programmed, a screen informing the reason for manual insertion will appear. Also, if more commercials are inserted than indicated on the Plan, a reason for additional insertion will be requested from the operator
On this screen it is also possible to program other Interstitial events such as vignettes, promos, teasers, etc.… Those events can be selected on the Products or Vignettes lists, or through the Insert button… After the insertion these events appear on the schedule list in blue, distinguishing them from the normal Commercials. The Products and Vignettes buttons are only available for the "basic channels", those channels configured as "without local control of the schedule" (see channel configuration screen).
The possibility to program promos and vignettes directly on the commercials schedule allows that the "basic channels" complete break also be programmed, without resorting to the Daily Schedule
The Plans button brings the list of all Ad Insertion Plans for the day, and of the ones that can be programmed by drag&drop or through the Auto Program and Program Selection buttons. This list brings all of the day's plan, where the plans still open are in Green and the ones already completed appear in italic/grey.
The Auto Prepare button allows creating a Breaks' Grid automatically, from the Monthly Schedule.
The Padlock icon indicates if the day's Commercial Schedule is locked or not for programming. If the corresponding day's Daily Log is locked (by the Logger), it will reflect into the Commercial Schedule being locked as well.
A message at the bottom of the screen will indicate if the corresponding Log has already been sent to Master Control. The Daily Log may still be open but changes to the Commercial Schedule will have to be manually sent to Master Control if the message is present.