Jobs List

u The Job colour indicates the Job status, as follows:

magenta : Job with no Expect Completion date set (i.e. Open Job)
red : late Job, it is past its Expect Completion date and is not yet flagged as "Done".
blue : Job is completed (Done) but not yet paid; only if a Payment Due date is set
green : Job is finished (completed and paid)
black : Job still "in production".

u The Jobs Sub... will create subsidiary Jobs for all the hilited Jobs. The Jobs are created according to the configuration set in the Jobs Templates .

u This button will bring a dialog, where the user can indicate the default Supplier and Requester for the jobs to be created.
---
u Job Done will flag all hilited Jobs as completed (Done), updating the Job Completion Date. This button will bring a Job Completion dialog for each Job.
---
u The Set Paid button sets the selected to as "Paid", updating the payment date. Only Jobs alreasy set as done (completed) will be set as "Paid".

u The "Set as Paid" buttons in the Job Management & Jobs List screens bring a dialog where the user can indicate the Payment Reference and confirm the payment action.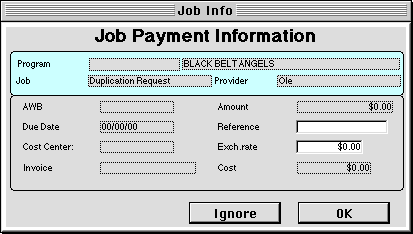 u The USD exchange rate can also be updated in the dialog.
---
updated release 2.3.008
Thu, Nov 15, 2001