User Defined Lists Maintenance
u Maintenance screen for data-entry support lists (popup lists).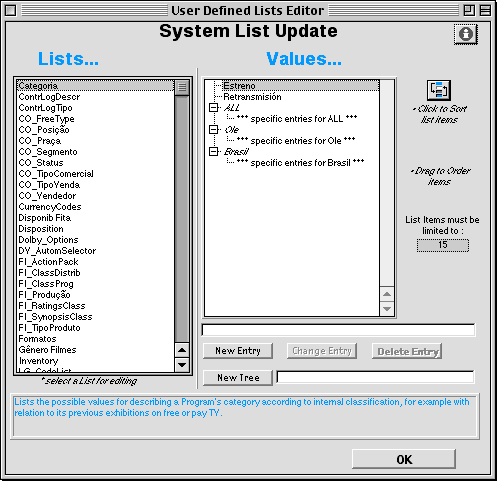 u The New Entry button inserts a new value into the list. The new item is inserted right above the item marked in the list.

u Using the New Tree button, a new hierarchy can be added to any choice list. This will create a new sub-tree to which individual items can be added.

u Some Lists are Security Level dependent and the items can be specific to each individual Security attribute value. Those Lists' values are displayed in a tree structure, with global values (those valid for any security attribute and shared by all users) appearing at the top. Under each Security attribute value come any item that applies only to users logged in with the same security attribute

u For example in the display above, the List "Categoria" (program category) can have items specific to each Territory. So any item listed in the tree's top portion will be presented to all users, in any Territory. Items listed under each individual Territory will ONLY appear to user assigned to that Territory (based on the user's profile).

u The Sort button orders the items in the list in alphabetic sequence.

u Changes to entry values are automatically updated throughout the database, in all records where such value is in use. The same way, attempts to delete entries that are in use in any records are rejected.

u Security related choice lists can only be edited via the new Security Hierarchy screen.

u This screen is accessed from 4C-TV Configuration screen.
---
updated release 2.3.008
Thu, Nov 15, 2001