Address Book Record
u Address Book record display and data entry form.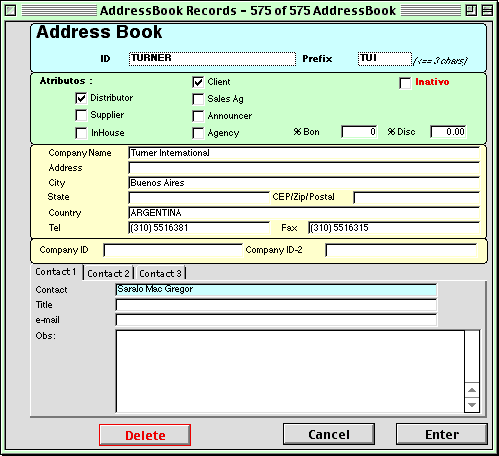 u 4C-TV's Distribuidoras role has been expanded and is now an Address Book to keep information related to Distributors, Studios, Suppliers, Labs, Providers and others related to 4C-TV's operation.

u Each Address must have a unique identifier and can have up to 3 contacts/addresses related to a company or individual.

u Each Address can have multiple "roles" in their relationship with the company and that is indicated in the various checkboxes.

u Depending on the "roles" for an address, it will be autoamtically added to the proper "popup list" in 4C-TV.

u The Address Book Find screen allows searching for addresses in specific roles.
---
Entry popup for Distributors/Suppliers/Providers
u In various places where a Distributor, Supplier or Provider name is used (Shipments, Jobs, Program Copies, etc.), a popup brings all the options for user selection.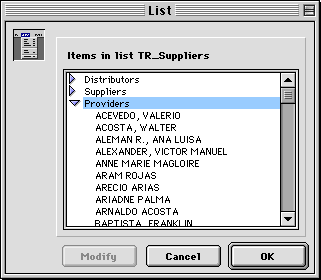 u The user must first select the name type desired (Distributor, Supplier or Provider), and the list of valid names in that category is presented. The selection in this popup can also be done via the keyboard, by typing the initial letters of the desired name.

u The new popup is used in the record entry as well as in the corresponding Query screens.
---
updated release 2.3.008
Thu, Nov 15, 2001