User Data Access Profile
u User Profile for data base access configuration display and maintenance form.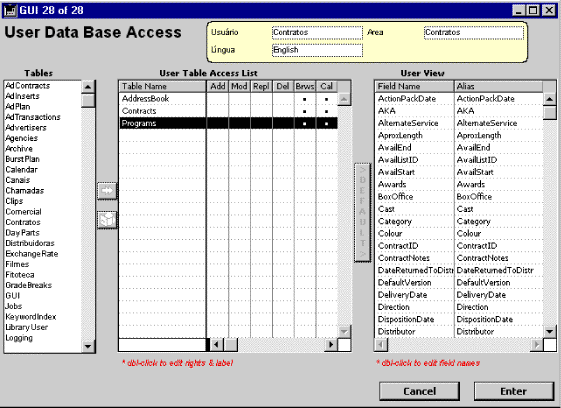 u As part of this new facility, 4C- TV's Data Dictionary is now "language" independent. 4C-TV's Data Dictionary is presented to each user according to his Language preferences. The present version includes Data Dictionary definitions for English & Portuguese.

u In addition to a language independent Data Dictionary, 4C-TV allows the Administrator to specify special Data Dictionary views for individual users.

u The User Database Access Profile specifies those Tables a user is granted direct access (for Browse, reports, etc.) and the fields within each table the user has access to. By default, when a Table access is granted, all its fields are available to the user. The Administrator can hide individual fields from a user's profile. Hidden fields do not show up on any 4C-TV wizard (Browse, Calendar, reports, queries).

u Hidden fields are not removed from 4C-TV's record lists or forms; they are removed only from "direct" user access.

u It must be noted that with this new release, users with "English" language preference will see new names for Tables & Fields. All table & field names are now in English, so users will have to adapt. On the other hand, many table/field names that were in Portuguese are now presented in English. So the trade off of getting used with the new field names is worthwhile.
updated release 2.1.008